Square Dance Nebraska - Ideas
A REAL "POT LUCK"
Next time you are considering serving a club dinner for an event, consider spicing it up with a little fun. This idea came with a Saint Patrick's Day theme but you could change the names to suit your needs.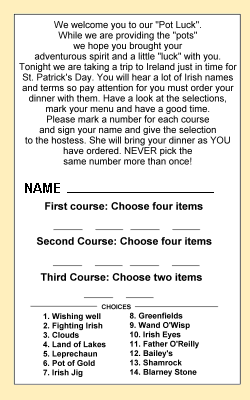 Upon arriving, guests are handed a "menu" that reads the following:

We welcome you to our "Pot Luck". While we are providing the "pots" we hope you brought your adventurous spirit and a little "luck" with you.

Tonight we are taking a trip to Ireland just in time for St. Patrick's Day. You will hear a lot of Irish names and terms so pay attention for you must order your dinner with them. Have a look at the selections, mark your menu and have a good time.

Please mark a number for each course and sign your name and give the selection to the hostess. She will bring your dinner as YOU have ordered. NEVER pick the same number more than once!
First course: Choose four items
---- use four underscore marks for them to write on ----
Second Course: Choose four items
---- use four underscore marks for them to write on ----
Third Course: Choose two items
---- use four underscore marks for them to write on ----
1. Wishing well
2. Fighting Irish
3. Clouds
4. Land of Lakes
5. Leprechaun
6. Pot of Gold
7. Irish Jig

8. Greenfields
9. Wand O'Wisp
10. Irish Eyes
11. Father O'Reilly
12. Bailey's
13. Shamrock
14. Blarney Stone
Now here comes the fun part.
This part of the menu is to be kept secret and only shared at the last minute with those that are helping to serve.

Decide on the menu for the evening and write it down. Included in the menu will be the table service for the guests. Your list of items will look something like this:
1. Corn Beef
2. Cabbage
3. Potatoes
4. Carrots
5. Bread & Butter
6. Soup
7. Jello
8. Ice Cream
9. Water
10. Coffee
11. Knife
12. Fork
13. Spoon
14. Napkin
Now assign those items to the names above but remember to keep that part a secret. All your guests get is a list of Irish-sounding terms to order from.

As you see by the menu, it is possible for guests to order food without any utensils or have to eat all their food with only a spoon. Some lucky few may have their dessert before their meal! In fact, since the guests only have ten numbers to list you can be assured all will be missing something! It is sure to be an enjoyable time for all.

And, of course, after everyone has been served once, all are welcome to go back and fill their plate up with items of their choice.